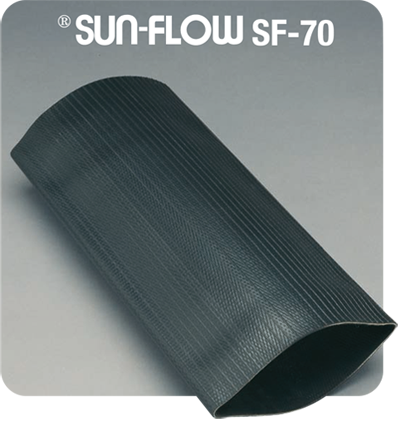 Code: SF-70
CIRCULAR WOVEL
NITRILE RUBBER BLACK
Text Size:

█

COVER:
NBR Ribbed. Resistant to oil, abrasion, and weathering.

█

TEMP. RANGE:
-20°F to 200° F.

█

APPLICATIONS:
Industrial wash down, Pump discharge submersible pump discharge,
Bypass systems Irrigation/Watering, Fertilizer distribution, Cable cover,
Pollution control flotation, Limited oil, & Chemical use, Dewatering jetting.

█

STND LENGTH:
200 ft.
NORMAL
SIZE

THICKNESS

WEIGHT
lbs/ft

WORKING
PRESSURE

END
PULL

1-1/2″
0.08″
0.21 lbs
150 psi
1,980 lbs
2″
0.08″
0.30 lbs
150 psi
2,860 lbs
3″
0.10″
0.46 lbs
150 psi
3,960 lbs
4″
0.10″
0.64 lbs
150 psi
5,280 lbs
6″
0.12″
1.11 lbs
150 psi
11,000 lbs
8″
0.12″
1.51 lbs
150 psi
14,520 lbs