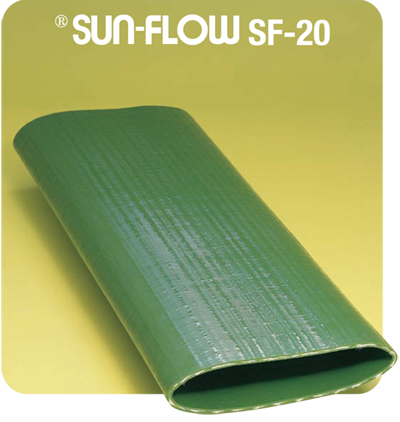 Code: SF-20P.V.C. MINE OR
IRRIGATION HOSE,GREEN
Recommend coupling by internally expanded method or crimping.
Text Size:

█

TOUGH HEAVY DUTY APPLICATIONS :
Mines, Irrigation, Construction, etc., for use with high tension and high working pressure.

█

TEMP. RANGE:
-5°F to 170° F. When Temperature is -15°C and Colder, please DO NOT Handle or Transport Hoses.

█

STND. LENGTH:
300 ft. per bale (Special order for longer lengths)

█

CONSTRUCTION:
3-Ply Polyester Yarns. Both tube and cover are extruded simultaneously to obtain maximum bonding.

█

CAUTION:
For liability purposes, if temperature exceeds 110° F the working pressure will go down. Please check with factory to ensure sufficient safety factor.
NORMAL
SIZE

I.D

APPROX.
WALL

MAX. W.P.
at 70°F psi

DESIGN
B.P. psi

T.S. LBS.
APPROX AT CUT

APPROX.
Wt. 300ft

1-1/2″
1.61″
0.090″
200 psi
630
2,300
78 lbs
2″
2.08″
0.100″
200 psi
630
4,700
108 lbs
2-1/2″
2.56″
0.100″
175 psi
530
5,300
120 lbs
3″
3.07″
0.118″
200 psi
600
11,000
201 lbs
4″
4.13″
0.157″
200 psi
600
16,000
340 lbs
6″
6.18″
0.197″
150 psi
600
25,000
656 lbs
8″
8.19″
0.236″
150 psi
600
52,200
1023 lbs