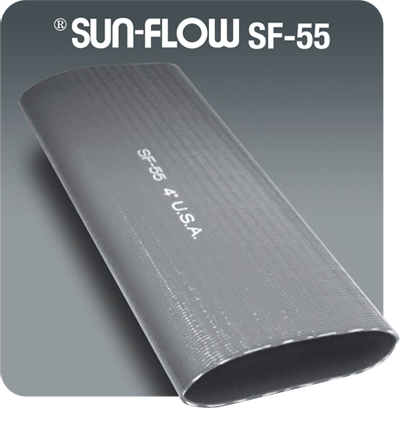 Recommended for sprinkler, pivot and
water transport – this hose has less
diameter growth and elongation
therefore allowing for much greater
ease of re-coupling after use.
Text Size:

█

TOUGH HEAVY DUTY APPLICATIONS:
Sprinkler, Pivot & Traveler, Water Transportaion.
(Pivot & Traveler use 3″, 4″, 5″, 6″ only)

█

TEMP. RANGE:
-5°F to 170° F. When Temperature is -15°C and Colder, please DO NOT Handle or Transport Hoses.

█

CONSTRUCTION:
3-Ply Polyester Yarns. Both tube and cover are extruded simultaneously to obtain maximum bonding.

█

CAUTION:
For liability purposes, if temperature exceeds 110° F the working pressure will go down. Please check with factory to ensure sufficient safety factor.
NORMAL
SIZE

I.D

APPROX.
WALL

MAX. W.P.
at 70°F psi

APPROX. Wt.
300ft

1-1/2″
1.61″
0.063″
150 psi
60 lbs
2″
2.08″
0.087″
150 psi
108 lbs
3″
3.07″
0.100″
150 psi
194 lbs
4″
4.13″
0.114″
100 psi
280 lbs
5″ (128 mm)
5.07″
0.130″
100 psi
400 lbs
6″
6.10″
0.146″
100 psi
500 lbs
8″
8.19″
0.197″
80 psi
766 lbs
Industrial Specifications
NOMINAL
SIZE

MAX W.P. AT 70°F psi

DESIGN B.P. psi

8″
160
480