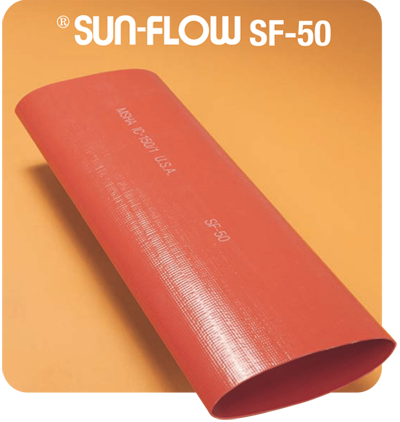 Code: SF-50
P.V.C.
150 PSI RANGE (Open End)
BRICK RED
DISCHARGE HOSE
Text Size:

█

STND LENGTH:
300 ft. per bale (Special order for longer lengths)

█

TEMP. RANGE:
-5° to 170° F. When Temperature is -15°C and Colder, please DO NOT Handle or Transport Hoses.

█

APPLICATIONS:
Mines, Construction, etc.

█

CONSTRUCTION:
3-Ply Polyester Yarns. Both tube and cover are extruded simultaneously to obtain maximum bonding.

█

FLAME RESISTANT:
USMSHA IC-150/1 (Size 1-1/2″, 2″, 2-1/2″)
Special Order Only.

█

CAUTION:
For liability purposes, if temperature exceeds 110° F the working pressure will go down. Please check with factory to ensure sufficient safety factor.
NORMAL
SIZE

I.D

APPROX.
WALL

MAX. W.P.
at 70°F psi

DESIGN
B.P. psi

APPROX. Wt.
300ft (USA)

APPROX. Wt.
300ft (JAPAN)

1-1/2″
1.61″
0.079″
150 psi
450
80 lbs.
64 lbs
2″
2.09″
0.087″
150 psi
450
103 lbs
85 lbs
2-1/2″
2.56″
0.091″
150 psi
450
124 lbs
119 lbs
3″
3.07″
0.095″
150 psi
450
164 lbs
158 lbs
4″
4.13″
0.102″
150 psi
450
254 lbs
225 lbs
6″
6.18″
0.119″
150 psi
450
400lbs
375 lbs
8″
8.19″
0.134″
115 psi
350
566 lbs