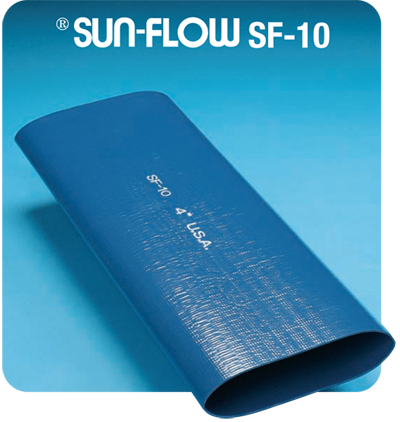 Code: SF-10
P.V.C.
BLUE
WATER
DISCHARGE HOSE
Text Size:

█

STND. LENGTH:
300 ft. per bale (Special order for longer lengths)

█

TEMP. RANGE:
-5°F to 170° F. When Temperature is -15°C and Colder, please DO NOT Handle or Transport Hoses

█

APPLICATIONS:
Mines, Construction, Irrigation, etc.

█

CONSTRUCTION:
3-Ply Polyester Yarns. Both tube and cover are extruded simultaneously to obtain maximum bonding.

█

CAUTION:
For liability purposes, if temperature exceeds 110° F the working pressure will go down. Please check with factory to ensure sufficient safety factor.
NORMAL
SIZE

I.D

APPROX.
WALL

MAX. W.P.
at 70°F psi

DESIGN
B.P. psi

APPROX.
Wt. 300ft

3/4″
0.79″
0.048″
140 psi
425
23 lbs
1″
1.04″
0.052″
110 psi
340
31 lbs
1-1/4″
1.30″
0.056″
80 psi
255
42 lbs
1-1/2″
1.61″
0.059″
80 psi
240
56 lbs
2″
2.09″
0.059″
80 psi
240
73 lbs
2-1/2″
2.56″
0.059″
65 psi
200
90 lbs
3″
3.07″
0.063″
80 psi
240
108 lbs
4″
4.13″
0.067″
70 psi
210
158 lbs
5″
5.07″
0.071″
40 psi
130
190 lbs
6″
6.16″
0.075″
60 psi
200
259 lbs
8″
8.15″
0.087″
35 psi
100
390 lbs
10″
10.20″
0.111″
35 psi
100
564 lbs
12″
12.13″
0.118″
35 psi
100
729 lbs
14″
14.14″
0.118″
30 psi
85
810 lbs
16″
16.14″
0.118″
30 psi
85
924 lbs
---
Code: SF-10S

P.V.C. BLUE WATER DISCHARGE HOSE
(Higher W.P. and Heavier Gauge)

NORMAL
SIZE

I.D

APPROX.
WALL

MAX. W.P.
at 70° psi

DESIGN
B.P. psi

APPROX.
Wt. 300ft

10″
10.20″
0.126″
80 psi
230
650 lbs
12″
12.20″
0.134″
60 psi
230
830 lbs